From the start, The CoasterDad Project was meant as a gift for kids. First, I built a roller coaster for my kids. Quickly, I learned that sharing our roller coaster adventures online was a great way to Bring Physics, Family, and Fun to Kids Everywhere. Our YouTube channel has grown as we've connected with millions of people around the world. Now, with your help, we're taking it all to the next level.
The CoasterDad MakerSpace will be a creative, Do It Yourself space where people can gather to  invent, make and learn. We'll have 3D printers, software, electronics, craft supplies, power tools, robotics, and more! In response to feedback from thousands of CoasterDad fans, we're building The CoasterDad MakerSpace to bring Physics, Family and Fun to Kids Everywhere. Will we build roller coasters? Naturally! But that's not all. The CoasterDad MakerSpace will be a wonderful place where kids and grownups can
Learn STEM and STEAM techniques and skills through hands-on, gently guided and self-directed classes, collaboration, and activities

Connect with other kids and their grownups who share similar interests and have the same kinds of questions

Build robots and drones to do wonderful and amazing things that kids really love. Ever heard of Game of Drones? BattleBots? Yeah. Us, too. 

Invent kooky new things with Science-y tools like 3D Printers, laser cutters, welding equipment, hand tools, power tools, micro-controllers, and computers

Learn YouTube Video Production skills to create a unique YouTube Channel, or collaborate with others to contribute knowledge to the second largest search engine on Earth.

Find adult mentors and teachers to help develop the skills and knowledge that you think is important

Host events like Birthday Parties for kids and even fancy, catered events for grownups.
It All Started With A Roller Coaster
Once Upon A Time, Will Pemble's son Lyle asked a simple question. "Wouldn't it be cool if we had a roller coaster in our backyard?"  Inspired by the idea, Will got to work. Three months later, to the delight of every kid in the neighborhood, Will's first roller coaster, "The Caution Zone," was complete. Throughout the project, Will documented his progress on YouTube Channel. Hundreds of videos, thousands of subscribers, and millions of views later, The CoasterDad Project is a real thing.
From the start, The CoasterDad Project has had no shortage of coverage on television, in blogs, newspapers, and social media. Google Will Pemble, and you'll see for yourself just how much passion and commitment he brings to the work.Will and his projects have been covered on Good Morning America, Discovey Channel Canada, CBS News, NBC News, ABC News, and dozens of television stations worldwide. Will has been featured in hundreds of online media outlets, including AOL.com, Hackaday.com, Popular Science, Popular Mechanics, Make Magazine, Edutopia, just to name a few. Most recently, the CoasterDad Project won Four Editors Choice Blue Ribbons at the 2015 Maker Faire Bay Area, where Will and the CoasterDad Team built a full-sized, interactive roller coaster exhibit to show kids and their grownups just how much can be learned in the world of "Physics, Family and Fun."
What We Need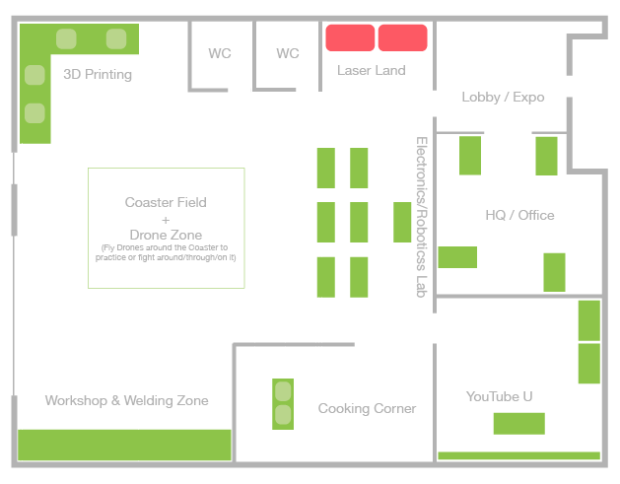 Just like a roller coaster, we need your help getting to the top of that first hill. For The CoasterDad MakerSpace, that's mostly about equipment, and a little about operating capital as well.
Our First Target is $15,000, which we'll use for
Laser Cutter
3D Printers
Arduino & Robotics Lab
Our founder, CoasterDad Will Pemble has a little workshop filled with big tools. Will is happy to donate all of it to The CoasterDad MakerSpace. Those tools include
Table Saw
Pneumatic nail nun
Pneumatic impact wrench
Pneumatic staple gun
Right angle drills
Skill saw
Sawzall
Dremels
Air compressor
Router and router table
Compound mitre saw
Saw horses
Hand tools
Cordless drills
Welding machine
Pipe benders
Steel chop saw
Welding helmet and gloves
Angle grinder
Skill saw
Dual grinding wheel
Video Studio Lights
2 HD Video Cameras
2 GoPro Hero Action Cameras
1 Time lapse camera
Three 27″ iMac Computers with all the trimmings
and more.
So, yes.  Quite a lot of The CoasterDad MakerSpace equipment already exists. When it comes to Bringing Physics, Family and Fun to Kids Everywhere, Will is all in.
Our Stretch Goal is $25,000
Our target goal will provide the funds and equipment we need to get The CoasterDad MakerSpace up and running. If you help our campaign raise more, we'll do more! More equipment, more programs, more outreach to kids and grownups who will surely benefit from our programs and offerings. We'll also purchase additional tools, such as
Drillpress
Metal lathe
Wood lathe
Drone training kits
Our Super Stretch Goal is $35,000
That'd be crazy awesome, right? Thirty-five thousand dollars to spend on teaching kids the things that kids want to learn! At this level, we'll add two incredible things to The CoasterDad MakerSpace.
A cooking studio
A slow motion camera
YouTube Learning Center
Totally unrelated things, except that they're kind of pricey. A moderately priced slow motion camera can shoot video at thousands of frames per second. In addition to being amazingly cool, SloMo is also an incredibly good way to get kids thinking in terms of the micro-world around them. Understanding just how much can happen in a thousandth of a blink of an eye opens up the mind to worlds of possibility. The CoasterDad MakerSpace will offer a Super SlowMo class to amaze, engage, and yes, to educate kids about MicroTime.
Ever seen a cooking show on TV or YouTube? Cooking isn't just great fun, and it isn't just a crucial life skill. Cooking is a language unto itself. Cooking opens up the worlds of chemistry, creativity, communication and the arts. A Cooking Studio at The CoasterDad MakerSpace would enhance those already stellar experiences by adding the opportunity for our students and members to create their own Cooking Shows, which they can enjoy in private, or even publish on YouTube.
Oooh! What if we did a Cooking Show… in SlowMo!  See? We just thought of that! We thought of it because That's What A MakerSpace Can Do. A MakerSpace Opens The Mind and allows for infinite often unlikely connections. Looks like a cooking studio and a slow motion camera aren't so totally unrelated after all.
STEM & STEAM Learning For Kids
Whether you're a grownup, a kid, or somewhere in between, now is always the best time to learn something new.
Preparing kids for careers Science, Technology, Engineering Art, and Math (STEM/STEAM) is the very best way we know to ensure that the next generation is active, aware, and engaged with the kinds of innovation and creativity that fuel personal, social, and economic growth.
For adults, we're creating a variety of classes and memberships to help you build new skills and hone your existing ones. The MakerSpace community, both online and at the CoasterDad MakerSpace facility, closes the loop and keeps you in touch with like minds and complimentary skill sets.
In addition to competitively priced classes and memberships, The CoasterDad Project aims to provide free learning opportunities for low-income adults and children, through scholarships and free training programs.  Your support will help these programs – and these people – to continue and grow.
501(c)3 + You = Education
Though Will Pemble is an experienced, successful entrepreneur, The CoasterDad Project wasn't started as a business. The CoasterDad Project started out as Will's gift to his children, Ellie and Lyle.
To the delight of millions, Will's videos, interactive learning experiences, and the articles he's published on topics like Project Based Learning are helping kids to learn, and grownups to teach. Will insists that The CoasterDad Project, and The CoasterDad MakerSpace, continues to be a gift. Not only to his kids, but to all kids, all parents.
As the Maker Movement as grown, so has the popularity and impact of Will's videos. Will's goal, however, has never changed: Bring Physics, Family and Fun to Kids Everywhere. We're organizing The CoasterDad MakerSpace as a non-profit to keep our goals and purpose clear. You can be sure that your contribution to this important work will be used to the benefit of the kids, community, and projects we serve.

CoasterDad Is Local and Global
The CoasterDad MakerSpace will be located in Concord, California. People from all over the Bay Area will have access to our classes, tools, people and resources. We envision a vibrant community where members become makers, and students become teachers. We know that hands-on experience is the best way to learn.
We also know that sharing content, ideas, and lessons online is a great way to teach. That's where The CoasterDad MakerSpace Video Production Shop fits in. Just like CoasterDad Will Pemble has been doing to the tune of millions of YouTube views for years now, we aim to continue Bringing Physics, Family and Fun to Kids Everywhere through our YouTube presence.
All our classes will be produced as Online Learning Modules and offered For Free to anyone who wants them. Providing valuable, meaningful education to anyone who wants it is simply the best investment we can think to make in our community, our children, our future. This desire, this passion, is at the very core of The CoasterDad Project, and we need your help to.. well, help
Risks & Challenges
The CoasterDad Team is experienced in every facet of the operation of this project. We've run technical training businesses that taught thousands of students. We're certified project and product managers. We're moms and dads. Will is certified in all kinds of things, including technical training, behavioral analysis, flight instruction, personal training, and too many other things to list here. We're experienced businesspeople who know how to win. We're award winning customer service providers. Will was the founding CEO of Web.com, one of the biggest web hosting companies in the world. Our latest roller coaster won 4 Blue Ribbons at Maker Faire Bay Area 2015. Will is a featured, master maker according to makezine.com.
So, yes. We're up to the challenge. We're also experienced enough to know that plans don't always go to plan. We're okay with that. Mistakes get made, schedules push. We're ready to work as hard and as long as it takes to realize our vision. We're also ready to promise deliverables carefully, and to keep those promises. Challenges are met, and problems get solved through communication, realistic expectations in the first place, and above all, perseverance. For The CoasterDad MakerSpace, we'll bring our A Game, and we'll keep on keeping on. GRIT is one of the many crucial lessons we aim to teach our members and our students.
Other Ways You Can Help
Not everybody has extra cash, even for the best of causes. If that's you at the moment, you can still help out in big ways. Subscribe to the CoasterDad YouTube Channel. Tell your friends and neighbors. Send us email and suggestions. Join our Mailing List! Money is awesome. Relationships and dialog are crazy strong, too!
We live in an amazing time where information, inspiration and ideas move at the speed of thought. Let's change everything. Let's teach Physics, Family and Fun to Kids Everywhere.
Thank You, Thank You, and Thank You!
The CoasterDad MakerSpace will teach kids amazing things
And we need your help. 
We're experienced, successful entrepreneurs who know how to win.
And we need great partners. 
We're parents who know that the education our kids need is more important than the things we might want.